EB5 Investors Magazine Past Issues
Upcoming Issues Timeline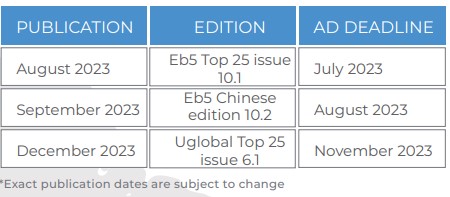 EB5 Investors Magazine serves as a companion to EB5Investors.com and strives to deliver compelling and comprehensive articles and information for everything EB-5 related. EB5 Investors magazine provides a platform for skilled EB-5 professionals to discuss pressing matters and keep readers up to date on the constantly changing laws and legislation pertaining to EB-5. Each of the publication's articles is peer-reviewed and provides high-quality objective analysis to an audience of attorneys, EB-5 regional centers, migration agents, wealth managers, and EB-5 service providers.
EB-5 Community Members: If you did not receive the recent English edition of EB5 Investors Magazine, please fill out our short sign-up form to receive a complimentary copy of our next issue!
In a field filled with a plethora of information and terms, EB5 Investors Magazine hopes to clarify some of the most common questions and concerns by delivering concise and informative articles written by a variety of leaders in the EB-5 field. Each article has undergone a selective review process to ensure that only the best are published. The publication caters to both highly trained experts in the EB-5 community looking to expand their knowledge and readers who are new to the program seeking to understand the basics.
EB5 Investors Magazine covers a wide range of topics, such as EB-5 program requirements, the impact of EB-5 investors on the U.S. economy, how new laws will affect EB-5, etc. The publication hopes to make the EB-5 program accessible to people looking to achieve their dreams of coming to the United States and provide a forum for EB-5 professionals to share their expertise. EB5 Investors Magazine serves as a tool to empower voices in the EB-5 community and help the program fulfill its potential.
---
Articles from our Latest Issue
Indian-Canadian father invests in EB-5 visa for son's medical career.....

EB5Investors.com Staff

The rigorous due diligence process of broker-dealers can help EB-5 investors mitigate the risk of an EB-5 investment, especially when it comes to the redeployment strategy.....

Marko Issever

To facilitate EB-5 capital formation, SEC has proposed to substitute the finder's interpretations with a proposed exemption to the registration requirements, creating two types of finders.....

A successful mandamus suit can bring about the adjudication of EB-5 petitions that have been delayed. However, there's no evidence that lawsuits change the ultimate outcome of the filing.....

Following the EB-5 program's 32 extensions, it should be congress' responsibility to protect investors and make the program permanent.....

What pitfalls to avoid when receiving a request for evidence on your EB-5 petition.....

A retrospective on USCIS' erroneous policy that requires cash proceeds of a loan invested to be judged differently from other sources of cash.....

While the L-1A, EB-1C and the E-2 visas might seem like less costly options, the least expensive process of obtaining U.S. permanent residency is investing in the EB-5 regional center project.....

While direct EB-5 investors have taken the brunt of the economic effects of the pandemic, many EB-5 regional centers have been impacted hard when it comes to new sales of projects. ....

Does Zhang v. USCIS mark the new era of the source of funds process?....

EB-5 stakeholders are now increasingly willing to challenge USCIS denials, delays, RFEs and interpretations of EB-5 regulations in the courts. And the courts are listening.....