EB-5 Visa Blog
How international students can get in-state tuition through EB-5
EB5Investors.com Staff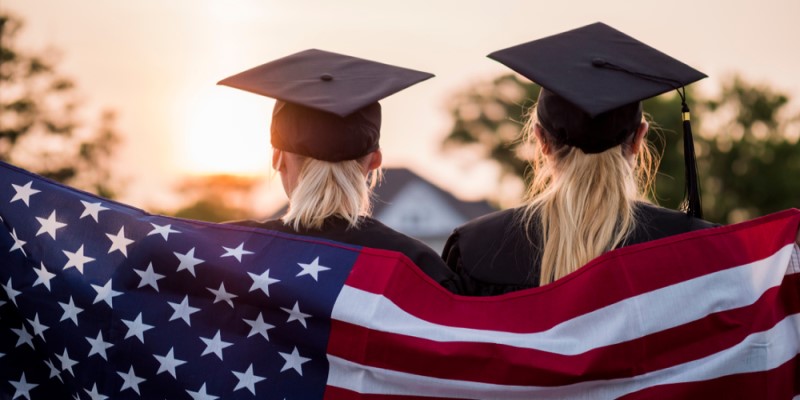 By Anayat Durrani
The United States is home to some of the best universities in the world and is a top choice for many international students seeking higher education. However, the price tag that comes with a U.S. college education can be significant. International students pay much higher tuition and fees than domestic students. One option that may benefit EB-5 investors to help keep college costs down is concurrent filing to get in-state tuition.
While tuition rates for international students attending private institutions are typically the same as domestic students, that is not the case at public universities that charge in-state and out-of-state tuition. In-state tuition is the rate students with a permanent residence pay while out-of-state tuition is the rate a nonresident of the state—international students included—pay to attend a public or state school.
Out-of-state tuition typically costs more than in-state tuition ⁠and can often be double or triple the price. For example, annual in-state tuition for the University of California, Los Angeles is $14,478. But for international students, the annual tuition at UCLA is $47,052. And, these figures do not include books, supplies and accommodation.
The importance of concurrent filing for EB-5 investors
Concurrent filing, experts say, can be a way for EB-5 investors and their family members to receive in-state tuition.
"Once the I-485 is filed, the EB-5 investor, and their dependents, are no longer considered an international student and are no longer subject to the Student and Exchange Visitor Program (SEVIS) or the international student office," says Kyle Walker, co-founder and CEO of Green Card Fund. "Therefore, after concurrently filing the I-526E and I-485 the EB-5 investor, and their dependents, will no longer be charged international tuition rates and can qualify for out-of-state tuition. To qualify for in-state tuition is a matter of establishing residency in the state."
However, Walker notes that each state has different policies to establish residency.
"Under adjustment of status (AOS) concurrent filing your status can change from F-1 International Student to Pending Status, Pending Green Card Status, Adjustment of Status Pending, or Application for Green Card Pending," says Preeya Malik, Dubai-based managing director of Step Global, an immigration consultancy firm. "Practically speaking, this means the individual is no longer considered an international student from an immigration perspective."
Andy J. Semotiuk, U.S. and Canadian immigration lawyer for Pace Law Firm, says generally to be eligible for in-state tuition rates requires students to establish residency in the state in which their university is located.
"This will certainly be the case once the EB-5 applicant's petition is approved and the applicant has obtained conditional green card status. So having a conditional green card works for in-state tuition purposes," says Semotiuk.
Before that, he says, there are about 20 states, including California, New York, Texas and Florida that have passed tuition-friendly legislation for immigrant families, but details can vary.
"In the case of EB-5 immigrant visa applicants who have applied for internal adjustment of status including employment authorization and travel and obtained the same but do not yet have conditional green cards, the answer will depend on the state of residence and the college of choice," says Semotiuk.
Malik says each state and also each school can have their own requirements on what qualifies a student for in-state or resident tuition. For example, she says some schools may require a certain amount of time domiciled or residing in the state while others may require proof of residential address in state or filing of tax returns. She says some schools may require the parents of a financially dependent child to have established residency in-state.
"For illustrative purposes, University of California, Berkley requires the student to hold their eligible immigration status for 366 days continuously prior to receiving the domestic tuition benefit," says Malik. "Usually, an "eligible immigration status" will include proof of an I-485, as this legally allows an individual to establish domicile in the United States unlike the F-1 student visa."
She says she always encourages clients to check with their respective institutions to find out what would qualify them for in-state tuition as a domestic student and obtain those guidelines in writing to avoid confusion.
What do residency benefits include for EB-5 investors?
Walker says residency benefits can be realized at various points in the filing/documentation process. He says these benefits include lawfully remaining in the US, travel in and out of the US, working in the US and no longer being subject to international tuition at US universities. Before becoming a permanent resident, he says, those benefits may happen in various steps and depend on the current status of the investor concurrently filing their EB-5 petitions.
"While the receipt notice from the I-526E/I-485 filing delivers the benefit to lawfully remain in the US and receive non-international tuition—out-of-state tuition or in-state tuition depending on the state residency—the other benefits are more complicated," says Walker.
Semotiuk says in general, immigrants with nonimmigrant status, apart from visitors, in particular those holding L or E visas can qualify to have their children as in-state applicants with much lower tuition costs in states that passed immigrant-friendly legislation.
"Families in such immigrant-friendly states may be wise to rely on those categories of status, E or L, in filing registration applications for their student children rather than using EB-5 adjustment of status employment authorizations as the basis for registration because adjustment of status is not as widely recognized and may not be recognized in their state of residence as a basis for lower fees," says Semotiuk.
He says this is especially true since in-state tuition eligibility is dependent upon the child being under 21 years of age and can prove to be a short-term issue and may be better if dependent on continued L or E status instead.
"In other words, if you are in L or E status, keep it long enough to qualify your children for in-state tuition if available and until they age out at 21," says Semotiuk. "Resort to employment authorization afterward, once the children are 21, and as the L or E status expires, can keep the immigrant family members in status thereafter until the conditional green cards are issued."